This will be my first TpT store sale in celebration. First, I'm celebrating 100 followers. Second, I'm celebrating Rafa Nadal's win today at the Australian Open!
I won't bore you with details, but it was an intense match. I feel bad that I wasn't cheering for the American, but I'm loyal to Nadal. The color in my sale banner matches his Australian Open outfit, and it's his logo in the tennis ball. See, told you, obsessed!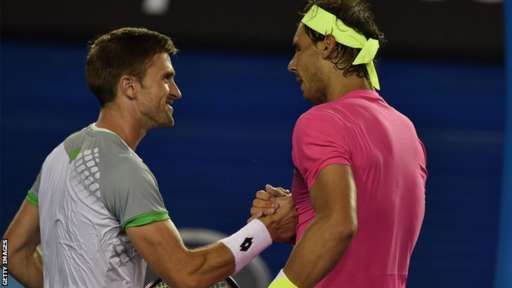 Click here
to read about Nadal's sickness during the match, even throwing up on court (Yuck), or his opponent's amazing good-sportsman "give" during the crucial final game. Or, if you want to understand my obsession a bit more, you can
click here
. (For women only).
So, I'm inspired to finally throw a sale for my TpT following of 100, and have a little fun. Each time Nadal wins I will have a flash freebie in my store. Freebie will be announced on my store's page.
Now, I need to get ready for our district's negotiation team meeting that is at my house at noon! We moved it earlier due to having no school today.
Vamos! Rafa!!!!